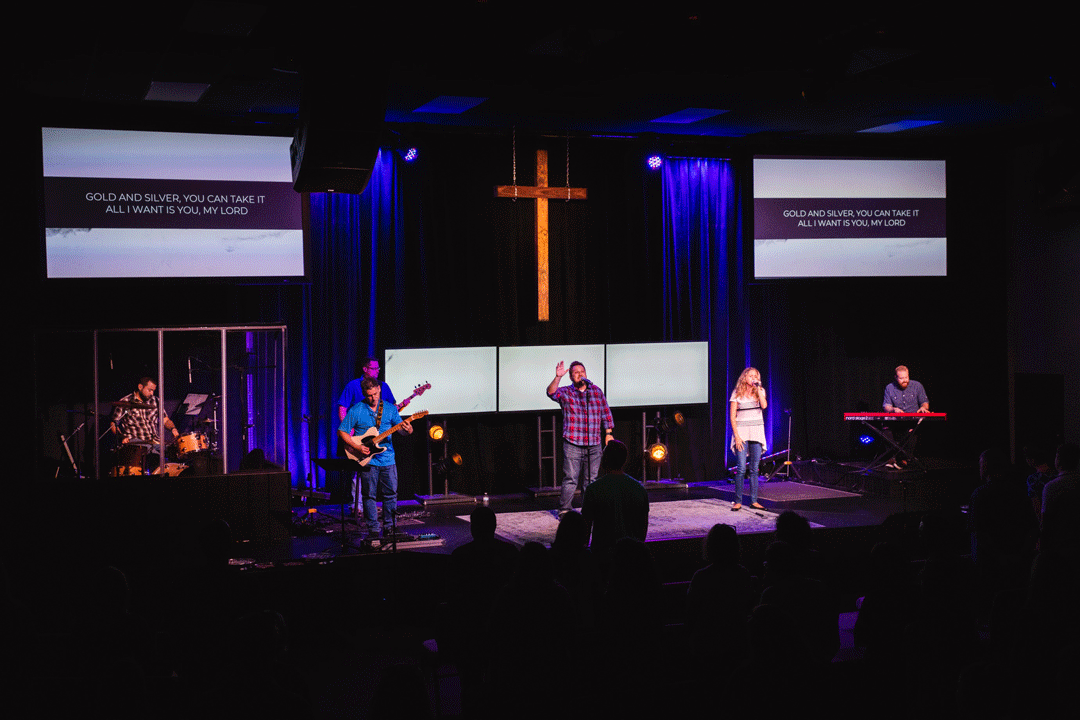 We're glad you're interested in checking out Village Church. It can be intimidating trying out something new, especially when you're not sure what to expect. Here are some answers to frequently asked questions about the church.
What should I expect the first time I attend Village Church?
You can expect a friendly, casual environment full of real people who love and serve Jesus. Each worship service begins with music that brings glory to Jesus and prepares our hearts to receive His word. After a word of prayer, you'll hear a message from one of our pastors followed by communion (for believers). We close each service with a time for giving and a final song of praise.
What's the music like?
Music at Village Church is energetic, lively, and celebrates the good news of Jesus Christ. Songs tend to be more modern and contemporary, though we also have great love for traditional hymns as well. All music is led by our worship team and performed by a live band of guitars, bass, drums, and keys.
What does the pastor talk about?
Our messages have one simple purpose: To help us become better followers of Jesus. We study the ageless truths of the Bible and look at how they should change our lives in real and practical ways.
We typically go through a series of related messages from one book of the Bible at a time. Each sermon is firmly rooted in scripture but presented in a way that's easy to understand.
You can watch previous messages on our SERMONS page.
What should I wear?
Come just as you are. There is no official dress code, and attire tends to be on the causal side. Many attendees (including our pastors) often wear jeans. We care more about what's happening in your heart, not what you're wearing.
What about my kids?
VillageKids is our exciting youth program where children learn about Jesus in a safe and engaging environment. Classes are offered from preschool through 5th grade and take place during both services. We also provide childcare each service for children ages 2 and under.
What are the people like?
In many ways, the people at Village are just like everyone else. We experience the ups and downs of life, we make mistakes, and we don't have everything figured out.
As committed followers of Jesus, we look to the Bible for guidance on how to deal with our struggles. We are supportive and encouraging, and we strive to help each other grow in our relationship with Jesus.
Can I invite my friends?
Of course you can, and please do! Our doors are always open to those who are curious about Jesus or who are seeking to belong to a community of believers.
Will I be asked for money?
Guests of Village Church are not expected to participate in giving. However, we would love for you to drop a connection card in the basket so we can get to know you better and answer your questions about the church.
Members and regular attendees do participate in giving as part of our worship. To learn more, visit our GIVE page.
How can I get involved?
There are three ways to get involved in village Church:
Community Groups –

We believe that living in Biblical community is an essential part of the life of anyone who intends to follow Jesus. But this type of community doesn't just happen, it takes intentionality. At Village Church, Community Groups are the primary way we participate in Biblical community.

Discipleship Groups -

A key way to grow in your faith is to go deep into discipleship with a few other people as you study Scripture together. There is an element of personal initiative that every follow of Jesus must learn to take in his or her own discipleship.

Serve Teams -

Serving is also one of the best ways to get connected at the church and meet people. Serving together builds strong community. There are many ways that you can volunteer, and of course not all take place on Sunday morning.
How can I learn more about Village?
A great way to learn more about the church is to attend Starting Point. Starting Point is an opportunity for you to meet with a leader of the church and ask any questions you may have. Starting Point takes place the first Sunday of each month after each service.
Of course, you can always speak with us on Sunday mornings after the service. We'd love to chat with you and answer any questions you have. You can also send us a message through our CONTACT page or fill out a CONNECT CARD.
What do you believe?
You can find out more about what we believe and our statement of belief and biblical doctrine on the WHAT WE BELIEVE page.